Discover Crete
Plakias Boat Tours
Welcome
Discover and explore South Crete by boat!
Visit untouched paradise beaches or experience fishing on the open sea.
Captain Tasos and his crew are waiting for you every morning in the harbor of the beautiful village of Plakias.
Make your choice from the various boat tours which are organised daily.
With a lifetime of experience and 6 different boats available, Captain Tasos' greatest priority is to take you along on a unique and wonderful trip.
Day Trips & Destinations
Discover and explore South Crete by boat.
Visit untouched paradise beaches or experience fishing on the open sea.
Media
Watch our video's
Watch some of our experiences on YouTube! Charter one of our boats for the day and discover the amazing beauty of south Crete by boat. We have a wide variety of destinations.
Meet our team
Tasos Tsanas – Captain & Owner.
For over 37 years he has been a captain at sea.
From a young boy he was out fishing daily with his father, Manolis one of the eldest professional fishermen of the village.
In 2005 Tasos met his Belgian wife Lisa. Today, she welcomes you as office manager of Plakias Boat Tours.
Tasos Tsanas
Captain and owner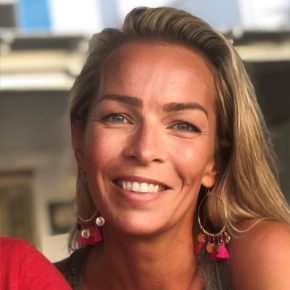 Lisa Michiels Tsana
Office manager
Manolis Tsanas
Captain & Big Boss
Testimonials
What our clients say
Great day out on the water with Captain Tasos.  He made my boys feel like they were his family.  Highly recommend this trip.  Had a great time on the water.
We took a private charter with Tasos during our stay in Plakias and it was one of the highlights of our entire Italy/Greece vacation! Tasos and the staff were incredibly easy to communicate with, especially given that we made plans last minute. We used the website and communicated via email and within minutes we were able to get our questions answered and book the full-day Treasure of the South Tour. The entire day and experience was awesome and effortless. We visited places that would have taken hours and hours to get to by car (or not at all, given most of the places we stopped were only accessible by boat or an incredibly long hike in the heat)! It was a great experience for my family, as Tasos made us feel at home and literally gave us a personal tour of the south coast, going to remote beaches and really cool caves to explore and swim in/near. He even took time to take pictures for us in certain areas, as we couldn't do that and swim/explore. The entire time was fun and relaxing (and informative)! I highly recommend Tasos and Plakias Boat Tours and would most definitely use them again! Google Review link
Our family of 5 (4 adults + 1 child, aged 7) booked this tour rather last-minute to take advantage of the warmer weather during our holiday on Crete. We found Plakias Boat Tours was one of the only tour operators in the area and the website sold the trip. After a quick enquiry and an even quicker response late at night, we had the 8-hour "treasures of the south coast" tour booked the very next day! Captain Frank was great, made the trip a lot of fun. The stops were all magical in their own way. It is late October so we can't blame Frank for the "refreshing" water temperature! But the Sun, hospitality and drinks and snacks made it all worth it. We really enjoyed the clay skin treatment at white beach. Loutro was a very quaint, perfect Greek village. The snorkeling was lovely, all gear provided. We all had a great time, all for a reasonable price…and we would highly recommend this tour! Google Review link
Great fun day out.  We went to mud beach, Loutro and Marmara.  A brilliant fun day.  Well done Captain!
Booked this trip with a group of friends.  Had a super day.  Captain knew some great spots to stop at.  Had fun on mud beach, covering ourselves with white mud then washing it off in the clear blue sea. Swam into some beautiful caves where the light shone through like diamonds.  Sea was like silk, so clear ad blue.  Loutro is very quaint and you are able to do a bit of shopping or sample a refreshing ice-cream.  Would highly recommend.
Breath-taking views.  Sailed and swan into some caves and enjoyed the beautiful crystal clear waters.
A trip not to be missed!  Had the best time ever.  Will be booking another boat trip with Tasos.
Took my 14 year old for a fishing trip with Tasos.  Had a fun relaxing time and a great learning experience for my son.  Laughed and joked all day.
Thank you Captain Tasos for an incredible evening of fishing.  Tasos is a total expert and knows the best spots
We had a great time.  First time sea fishing and Captain was an awesome teacher.  Caught my first fish!
Very knowledgeable and friendly crew.  Great trip for the boys.  Would highly recommend
Never thought I would want to go fishing with men.  Wow!!  What a fun time I had catching squid at night.  Laughed so much.  An experience to try.  Topped off by a beautiful sunset.